With 125 combined years in the window and door business, we're a household name west of the Rockies, and our reputation is quickly making its way across the rest of the country. Who is Sierra Pacific Windows? We're the company building the most uncompromising windows and doors possible for clients with the highest expectations, a fact we're proving one beautiful project at a time.
Today, Sierra Pacific products are installed in 30 countries around the globe, with a focus on residential and light commercial construction in North America. The company supports more than 600 dealers, distributors and company stores across the country, with three manufacturing plants strategically located to deliver your order when you need it.
A competitive advantage with very deep roots.
Sierra Pacific Windows is part of Sierra Pacific Industries, which sustainably manages over 2.4 million acres of timberland in California, Oregon, and Washington. Sierra Pacific is amongst the largest millwork producers and lumber companies in the U.S. This gives us something important – control. We build windows and doors in a way that leaves nothing to chance. From planted seed to delivered window and door, every style, every feature, every bit of glazing and cladding are made by people invested in their work, and with the care our founder Red Emmerson instilled when he said, "Don't pass on bad product." The result? Nothing but the best gets passed onto you.
What True Vertical Integration Looks Like: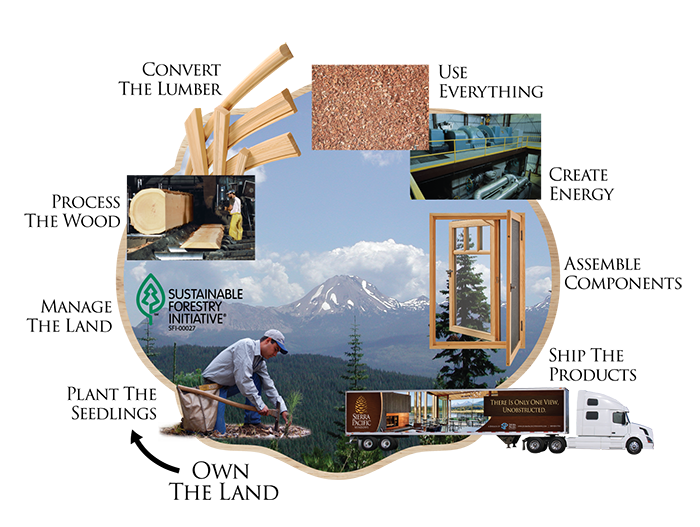 Strict control of our seed-to-window manufacturing takes many steps. Here's what true vertical integration requires:
Own the land
Innovations in "sustained yield" forest management and timber harvesting will nearly triple the amount of wood growing on our land in the next 100 years, with average tree diameters doubling in that time.
Process the wood
Harvested wood goes to one of our 14 sawmills in California, Oregon, and Washington to be carefully prepared for use.
Convert the lumber
Our finest grade timber goes to our state-of-the-art millwork facilities where it's turned into components for our windows and doors.
Assemble the components
Milled pieces are assembled into world-class windows and doors in one of our three manufacturing facilities.
Ship the products
Transportation is carefully controlled to be sure all materials arrive on time and in pristine condition.
Use everything
The fiber remaining from one operation becomes the raw material for another. Shavings become animal bedding; bark becomes landscape material or boiler fuel for dry kilns and electricity generation.
Create energy
Using bark and other remaining fiber as boiler fuel, our seven cogeneration facilities produce more than enough power to operate our mills. The balance is sold to CA utility companies to help local communities and reduce our nation's dependence on fossil fuels.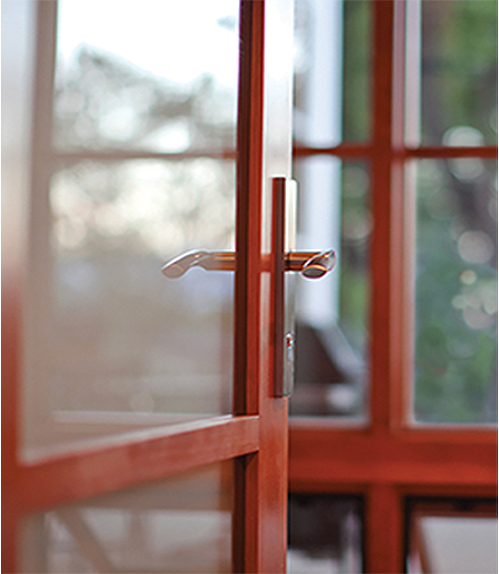 Crafted like no other windows in the world.
The things that set our windows and doors apart have big implications for longevity and performance. For starters, the exteriors of our clad wood windows and patio doors are fully encased in heavy-duty, extruded aluminum that's twice as thick as roll-form cladding. It only takes one hailstorm to demonstrate the benefit of this. Although more expensive to manufacture, all but our anodized collection is AAMA 2604 or AAMA 2605 powder coated for greater surface hardness, scratch resistance and color retention, than ordinary liquid paint.
Underneath this cladding is the thermal superiority of select woods. Our wood is treated and protected against insects and moisture with our patented, naturally organic CoreGuard Plus™ preservative.
Inside our world-class frames is high-performance glazing with customized options for your exact weather and environmental conditions. As a finishing touch, our insulated glass uses No-Metal TrueWarm® Edge polymer structural foam spacers. This dramatically improves energy efficiency and reduces seal failures often caused by the more common metal spacers.

A culture that is uniquely ours.
Pictured above: Mark Emmerson, Red Emmerson and George Emmerson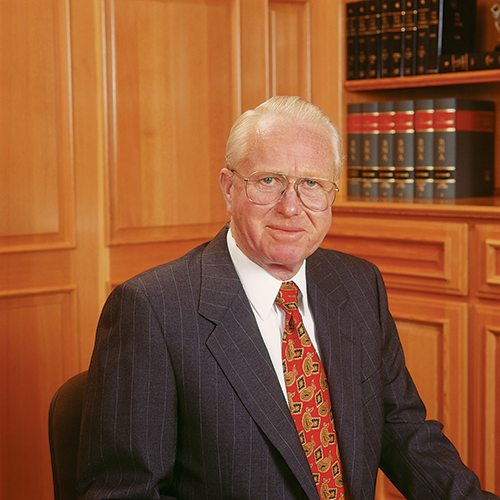 Our Approach
"Uncompromising commitment to quality in every step of the window and door-making process as we craft products used by customers with the most discerning tastes and highest standards in the industry."
Our founder, Red Emmerson, expresses it this way: "Do it right, or do it twice."
The teams here take great pride in what they do, with a rare combination of technological expertise, craftsmanship and attention to detail. Our own rigorous quality tests are performed every day to make sure our windows perform flawlessly. Third-party testing, inspection and certification takes place through the Window and Door Manufacturer's Association (WDMA) Hallmark Program and several other testing bodies.
The result? The creation of the best windows and doors in the world; hand-made, one at a time, by people invested in every piece of wood, every powder-coated finish, every seal in our glazing – in short, every step of the process.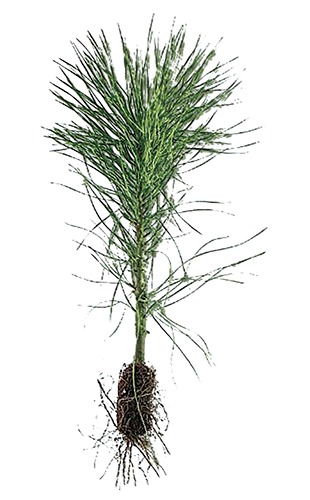 Our Roots
Sierra Pacific Industries is a third-generation family-owned forest products company with a rich history. It's founder, Archie Aldis "Red" Emmerson, was born in Oregon, close to mountains, timber and a father in the timber business. In 1949, the two leased a sawmill together and formed R.H. Emmerson & Son. In the years that followed, they acquired more and more land and lumber interests until Sierra Pacific Industries was incorporated in 1969. Although he's still involved, Red's sons, George and Mark, run the business today, with six of Red's grandkids also intimately involved in day to day operations.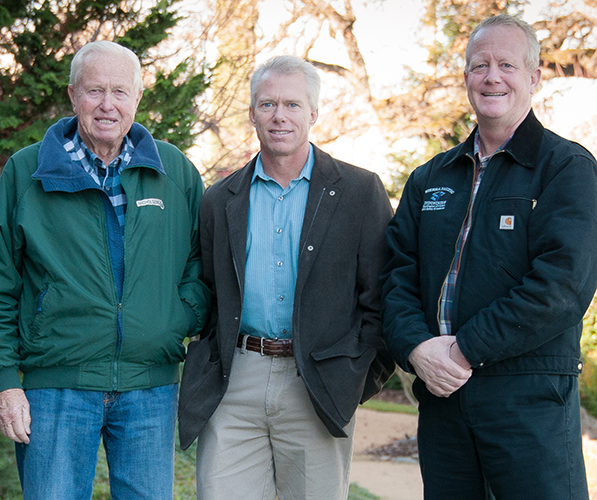 Our Leadership
Red Emmerson still lives in Redding, California. At 93, he could probably still outwork most people. Not surprising for a timber visionary who built his first sawmill at age 22.
He has upheld his father's philosophy of treating each team member with respect and dignity, promoting a company culture of transparency, and giving them the tools and opportunities to excel at their work. This has resulted in loyalty and commitment seldom seen in companies of this size.
Bud Tomascheski, former SPI Vice-President and Manager of the Forestry Department described Red's example in his book Sierra Pacific, A Family History,: "...the four of us (company officers) were fortunate in having Red find us. We learned from him. No matter how hard we tried, we could not out-think him, nor could we outwork him. He could shame an employee into extra effort merely by his example. He was the catalyst that made his company prosper and grow. The rest of us went along for the ride."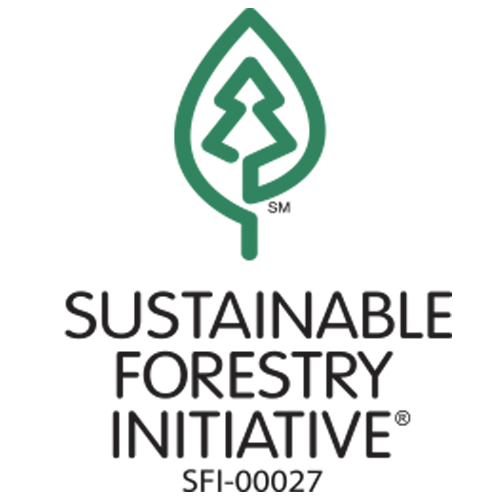 Our Focus on Sustainability
At Sierra Pacific, we believe healthy trees, good water quality and enduring wildlife habitat are the natural result of sound forest management practices. That's why we adhere to the environmental protection standards of the Sustainable Forestry Initiative® (SFI) and go beyond the forestry regulations in California, Oregon, and Washington – the highest standards in the world.
We bring in Professional Foresters and Wildlife Biologists to help protect wildlife habitat, watercourses and plant life, and to help manage our lands based on "sustained yield" practices. As a result, Sierra Pacific Industries plants at least 10 million new trees every year and will nearly triple the amount of wood growing on its lands in the next 100 years, with average tree diameters nearly doubling in that time.
To learn more about how Sierra Pacific Industries protects, preserves and invests in its own forest lands, visit spi-ind.com.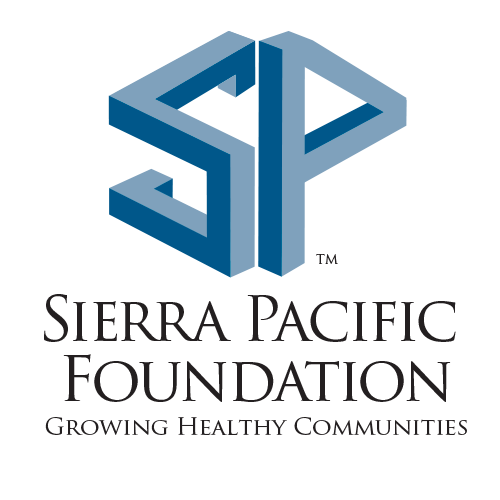 Our Foundation
The Sierra Pacific Foundation was established in 1979 by R.H. Emmerson, Red Emmerson's father. Today, Red's daughter Carolyn Dietz serves as Foundation president.
Since its inception, the Foundation has provided nearly nine million dollars in higher education scholarships to children of Sierra Pacific Industries employees. It also supports youth activities and other organizations in the communities in which Sierra Pacific Industries has facilities.
In 2015, the Foundation gave $1 million to One SAFE Place to support the nonprofit's new shelter for domestic violence victims.
Where Can I See Windows & Doors In Person?